Teen Choice Awards 2014/ Tutte le nomination: colpo grosso per Pretty Little Liars, Hunger Games e One Direction
Una lista lunga ma con poche sorprese. E' questo l'annuncio delle nomination per i prossimi Teen Choice Awards, evento estivo atteso dai più giovani e dai loro beniamini dello spettacolo.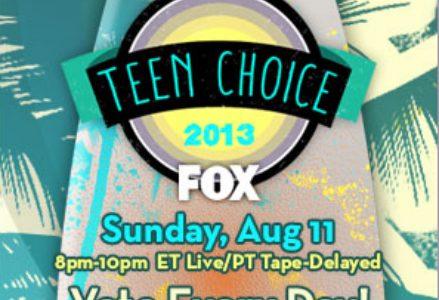 teen choice awards 2015
Signori e signore ecco a voi i possibili vincitori dei prossimi Teen Choice Awards 2014, che si svolgeranno il prossimo 10 agosto 2014 al Pauley Pavilion di Westwood Village a Los Angeles, California, nel cuore del campus della celebre UCLA. Il dado è tratto e la lista dei nominati per l'evento estivo tanto atteso è ormai stata resa nota. Non si può più votare per i propri beniamini perchè ormai i nomi sono ufficiali e, possiamo dirlo, non ci hanno certamente colto di sorpresa. Hanno fatto man bassa di nomination i soliti noti ovvero Pretty Little Liars e The vampire Diaries per la televisione, e naturalmente il secondo capitolo di "Hunger Games: La Ragazza di Fuoco": in gara per Choice Movie: Sci-Fi/Fantasy e anche i suoi attori, Liam Hemsworth, Josh Hutcherson Jennifer Lawrence. Per quanto riguarda la musica, Austin Mahone dovrà vedersela con Jason Derulo, Pharrell Williams, Pitbull, Ed Sheeran e Justin Timberlake nella categoria Choice Male Artist, mentre Ariana Grande proverà a battera Beyoncé, Miley Cyrus, Lorde, Katy Perry e Taylor Swift come Choice Female Artist contro. Nella categoria Choice Music Group i 5 Seconds of Summer sfideranno One Direction. Di seguito la lista completa dei nominati nelle categorie cinema, televisione e musica.
FILM
Divergent
Edge of Tomorrow
Godzilla
Maleficent
The Mortal Instruments: City of Bones
Jamie Campbell Bower, The Mortal Instruments: City of Bones
Kellan Lutz, The Legend of Hercules
Mark Wahlberg, Lone Survivor
Theo James, Divergent
Tom Cruise, Edge of Tomorrow
Emily Blunt, Edge of Tomorrow
Lily Collins, The Mortal Instruments: City of Bones
Elle Fanning, Maleficent
Angelina Jolie, Maleficent
Shailene Woodley, Divergent
Captain America: The Winter Soldier
X-Men: Days of Future Past
The Amazing Spider-Man 2
The Hunger Games: Catching Fire
Thor: The Dark World
Chris Evans, Captain America: The Winter Soldier
Andrew Garfield, The Amazing Spider-Man 2
Chris Hemsworth, Thor: The Dark World
Liam Hemsworth, The Hunger Games: Catching Fire
Josh Hutcherson, The Hunger Games: Catching Fire
Halle Berry, X-Men: Days of Future Past
Scarlett Johansson, Captain America: The Winter Soldier
Jennifer Lawrence, The Hunger Games: Catching Fire e X-Men: Days of Future Past
Natalie Portman, Thor: The Dark World
Emma Stone, The Amazing Spider-Man 2
American Hustle
Heaven Is For Real
Million Dollar Arm
The Fault in Our Stars
Veronica Mars
Bradley Cooper, American Hustle
Russell Crowe, Noah
Jason Dohring, Veronica Mars
Ansel Elgort, The Fault in Our Stars
Jon Hamm, Million Dollar Arm

Emma Watson, Noah
Jennifer Lawrence, American Hustle
Kristen Bell, Veronica Mars
Sandra Bullock, Gravity
Shailene Woodley, The Fault in Our Stars
Anchorman 2: The Legend Continues
Blended
Ride Along
The Other Woman
Vampire Academy
Will Ferrell, Anchorman 2: The Legend Continues
Kevin Hart, Ride Along
Johnny Knoxville, Jackass Presents: Bad Grandpa
Ice Cube, Ride Along
Adam Sandler, Blended

Christina Applegate, Anchorman 2: The Legend Continues
Drew Barrymore, Blended
Zoey Deutch, Vampire Academy
Cameron Diaz, The Other Woman
Emma Roberts, We're the Millers
Hart of Dixie
Pretty Little Liars
Switched at Birth
The Fosters
Twisted
Avan Jogia, Twisted
Ian Harding, Pretty Little Liars
Jake T. Austin, The Fosters
Keegan Allen, Pretty Little Liars
Lucas Grabeel, Switched at Birth
Troian Bellisario, Pretty Little Liars
Rachel Bilson, Hart of Dixie
Lucy Hale, Pretty Little Liars
Maddie Hasson, Twisted
Maia Mitchell, The Fosters
Arrow
Once Upon a Time
Sleepy Hollow
Teen Wolf
The Vampire Diaries
Ian Somerhalder, The Vampire Diaries
Joseph Morgan, The Originals
Josh Dallas, Once Upon a Time
Paul Wesley, The Vampire Diaries
Tyler Posey, Teen Wolf
Claire Holt, The Originals
Ginnifer Goodwin, Once Upon a Time
Kat Graham, The Vampire Diaries
Kristin Kreuk, Beauty and the Beast
Nina Dobrev, The Vampire Diaries

Austin & Ally
Glee
New Girl
Sam & Cat
The Big Bang Theory
Andy Samberg, Brooklyn Nine-Nine
Ashton Kutcher, Two and a Half Men
Chord Overstreet, Glee
Jim Parsons, The Big Bang Theory
Ross Lynch, Austin & Ally
Debby Ryan, Jessie
Kaley Cuoco, The Big Bang Theory
Laura Marano, Austin & Ally
Lea Michele, Glee
Mindy Kaling, The Mindy Project
Adventure
Time
Family Guy
Gravity Falls
Regular Show
The Simpsons
American Idol
Masterchef Junior
Survivor
The Amazing Race
The Voice
Cosmos: A Spacetime Odyssey
Dance Moms
Keeping Up With the Kardashians
Real Husbands of Hollywood
Total Divas
Jimmy Fallon
Kevin Hart
Mindy Kaling
Andy Samberg
Kenan Thompson
Jason Derulo
Pharrell Williams
Pitbull
Austin Mahone
Ed Sheeran
Justin Timberlake

Beyonce
Miley Cyrus
Ariana Grande
Lorde
Katy Perry
Taylor Swift
5 Seconds of Summer
Fifth Harmony
One Direction
R5
Rixton
Martin Garrix
Calvin Harris
Kaskade
Skrillex
Zedd
Iggy Azalea
Eminem
John Legend
Nicki Minaj
Justin Timberlake
Coldplay
Imagine Dragons
One Republic
Paramore
The Black Keys
Luke Bryan
Hunter Hayes
Jake Owen
Blake Shelton
Keith Urban
Jana Kramer
Kacey Musgraves
Miranda Lambert
Taylor Swift
Carrie Underwood
Florida Georgia Line
Lady Antebellum
Parmalee
The Band Perry
Zac Brown Band
Beyonce
Selena Gomez
Ariana Grande
Kendall Jenner
Rihanna
Bella Thorne
One Direction
Zac Efron
Ryan Gosling
Liam Hemsworth
Austin Mahone
Ian Somerhalder
Selena Gomez
Austin Mahone
Demi Lovato
Harry Styles
Taylor Swift





© RIPRODUZIONE RISERVATA